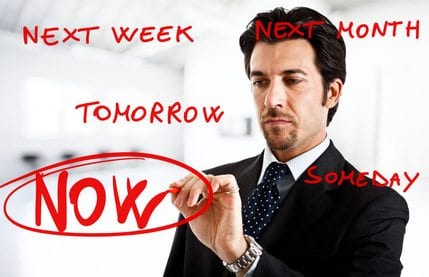 The New Year is a time for setting goals. You reflect back on what you accomplished in the past year and what you hope to accomplish in the coming year. You think about who you are and who you want to be, personally and professionally. As you set goals for the coming year, you want them to be a stretch while also being achievable. Achievable goals help you prove to yourself that you can be successful. And success breeds success. Here are four ways to fashion aggressive goals that are reachable.
#1 SET SMALL GOALS WITH DEADLINES
The most important step in setting a goal is accepting who you are and where you are at in life, in touch with what you are and are not willing and able to do. For example, if you have never run more than a lap around a track, it's probably not wise to set a goal of running a marathon in 3 months. In fact, thinking about running a marathon can be so terrifying that you never lace up your running shoes. Instead, break big goals into smaller time-bound goals. Each small goal builds on itself and gets you closer to achieving your ultimate goal. In this case, running a 10K in 6 months may be a goal you can sink your teeth into. 2K in month 1, 4K in month 2, etc. After you succeed in crossing the finish line at the 10K, the hard work has paid off and you've received positive reinforcement that says "I can do it." So set the next small time-bound goal. And success builds upon success, until low and behold, the marathon is totally possible.
#2 ALLOCATE TIME
When you set a goal, you have the best intentions behind it. You know that it's the right thing for you to focus on and that it will get you closer to where you envision yourself being in the future. One thing that sometimes gets forgotten, however, is that a goal without the time reserved and held to pursue it will fall flat every time. For example, cooking healthy dinners four nights a week may be a family goal. In order to make it a reality, you will need to reserve time for meal planning (monthly or weekly), grocery shopping (weekly) and cooking (weekly or daily). Even if you choose to research and select a home meal delivery service, time must be held several nights a week for cooking. New habits are the first to fall by the wayside when life get stressful and hectic. If your schedule reserves the time necessary to support a new habit, you are infinitely more likely to succeed.
#3 TELL SOMEONE
If you only have yourself to answer to at the end of the day, it's quite frankly just not scary enough. You may know what needs to be done and have everything in your power to do it, yet you don't see it through. Externalizing accountability keeps you on track to reaching your goals. Knowing that someone will be asking you about your progress is exactly the kick in the pants you may need to keep moving forward. Find an accountability partner to speak with weekly, keeping you motivated and on track. Read more about accountability here.
#4 START NOW
The moment will never be perfect. There will always be something else to do. Excuses will always arise. So stop waiting. Just start. Not next week. Not in a month. Now. Take the first step necessary to achieve your goal. And keep taking steps to stick with it week after week, month after month. That's the way goals are reached.
Commit your mind, your time and your actions to your goals and you will achieve them. When you break overwhelming goals into smaller, time-bound chunks, allocate time for the activities associated with your goals, tell someone, and start, you can build momentum around reaching your goals. Once you prove to yourself that what you once considered impossible is possible, the opportunities are endless.
Want accountability? Post your goals in the comments section below and we'll check in with you in a month to see how you're doing with your goals.