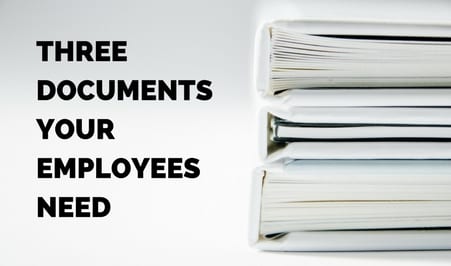 Your team is the greatest asset you have as a business owner. Your team keeps your operation running day in and day out, delivering services, addressing client complaints, managing vendor/partner relationships and otherwise keeping the wheels on the bus.
In order for each employee to have clarity on their role and accountabilities, three documents are essential: a job description, an employee handbook and an organizational chart. These documents ensure that team members understand their responsibilities, the policies they must abide by and how their position fits into the organization as a whole.
#1 JOB DESCRIPTION
A job description ensures that potential and existing employees know exactly what you expect of them. It defines a specific role, with documented responsibilities, desired outcomes and physical requirements. It outlines what the employee is accountable for and to whom they are accountable. The job description sets the employee up to be productive from the very beginning of their tenure.
As a role changes, the job description should be updated to reflect the latest reality. This comes in handy during performance conversations and annual review time, where the job description can be used as a measuring stick to objectively evaluate how a team member is performing against expectations.
#2 EMPLOYEE HANDBOOK*
Running a business without an employee handbook is a lot like a football team taking the field without knowing anything about the rules of the game.
How do you expect an employee to follow rules they don't know? Simple – you can't. Lack of clearly defined and documented policies leads to frustration and dissatisfaction.
Being clear on the rules of the game, and agreeing to follow them, sets an employee up for success. It also places all team members on a level playing field as it relates to expectations around working conditions, anti-harassment policies, time off, etc.
* Your handbook should be reviewed by an employment attorney prior to release.
#3 ORGANIZATIONAL CHART
It can be very difficult for a team member to know how they fit into the organization as a whole, without and organizational (org) chart. An org chart gives a big-picture view of the team and the reporting structure. It's like seeing a jigsaw puzzle fully intact.
The org chart also shows an employee where there are opportunities for lateral movement or advancement, giving them something to strive for over the course of their tenure.
It may feel overwhelming, or like a step back, to create these documents. But it's not. Likely, elements of each already exist. So pull them all together and organize them in an easy-to-follow way. Make sure these documents are always easily accessible. Collectively, they create an infrastructure of clear teammate expectations and accountabilities. Your team will appreciate it, and you'll no doubt reap the rewards of a more productively run operation.
 Not sure when you could possibly find the time to create these documents? Simpler Surroundings works with teams of all sizes to standardize job descriptions, develop teammate handbooks and design organizational charts. Give us a call today.