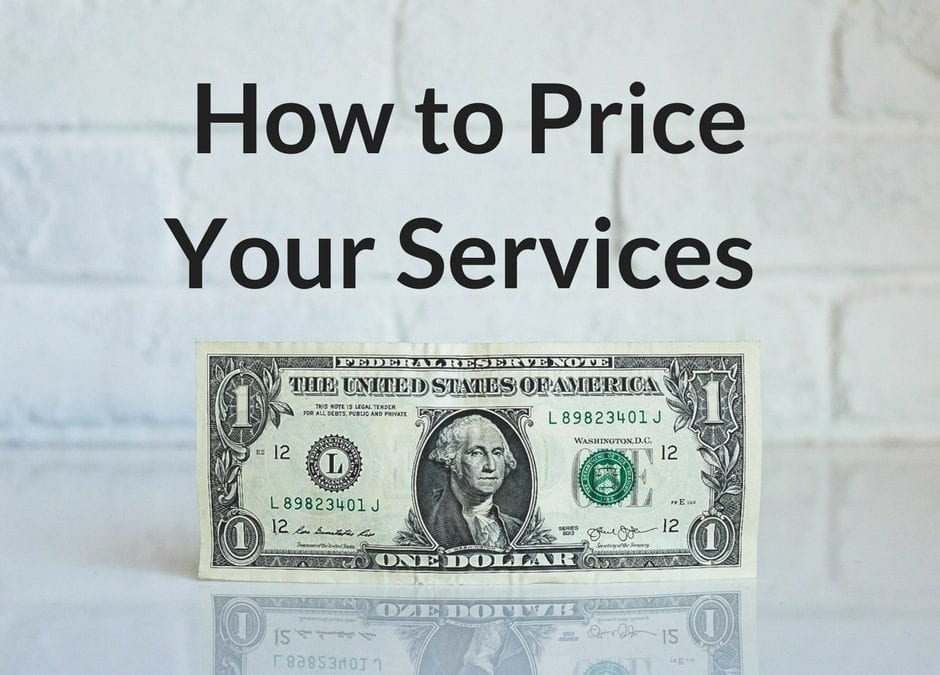 Have you ever felt the fear of losing a client if you didn't price your services to meet their needs? You're trying to grow your business. You want to receive referrals. You're scared of turning them away because you have no idea when another potential client will walk through your door.
Sound familiar?
Waffling on price is a common occurrence among business owners, as a result of the fears mentioned above. The solution to tackling these issues is to create standardized prices for your services. For some, this can be an even scarier scenario because the fear of losing current clients or turning away new ones can be debilitating. However, in order to create a sustainable and successful business, standardized pricing is essential and can bring more benefits than you ever thought possible. When you're in doubt, remember this:
Saying "yes" to the wrong customers, means you're saying "no" to the right ones.
Having set prices for your services will create "buckets" for your customers to fit into. Let's say a prospective client comes to you with a particular need. You will already have a short list of accurately priced services that COULD be a fit. Here's the catch: you need to have a better understanding of your customer's pain points and how you can solve them so you can offer the perfect package, product or service. This underscores the importance of having questionnaires or checklists to ensure you're gathering all the information you need to offer a solution that speaks to them. What's the bottom line? You should know the scope of the project ahead of time so you can serve clients appropriately and make money in the process.
So, how do you create standardized prices for your business? Below, we'll go through three key factors to consider when creating your pricing structure. It is imperative that you move through this process with intentionality. In other words, when writing down these numbers, have a vision for how your new and existing clients will reap the benefits of your offerings, while keeping in mind the long-term goals of your business.
Know Your Margins — Just because you give an hour of your time to a client doesn't necessarily mean that it only takes an hour to attract, nurture, and secure their business. Think about the time and materials required up-front, then quantify and incorporate it into the price of the service.
Know the Industry Standard — Knowing what other providers in your industry charge for their services can be a valuable benchmark for creating a standardized pricing model. Are you just starting out and need to build testimonials and a solid client base? Perhaps your prices will be just slightly lower than the industry standard. Does your unique value proposition set your services far apart from your competitors? Perhaps it's time for higher prices that may set the bar for clients who can afford you. You could even "buck the system" and design a totally new model that differs from the industry standard. You never know, it may catch on. You've heard of Uber, right?
Know the PERCEIVED Benefits to Your Client — What does your client get from investing in your services? Hint: it's not just the services themselves. If you're a dentist, your client doesn't just walk away with cleaner teeth and better breath. They may also have more confidence because of your work! What about your office environment? Have you spend a pretty penny on office space in a prime location? Have you made a solid investment in equipment or décor? Whether they realize it or not, your clients may develop a higher perceived value of your services because on some level, they "sense" you know your worth.
After you've taken the time to create firm pricing for your business, you'll be able to speak with confidence about your offerings, knowing these prices are fair, reasonable and "worth it" to the customer.
Finally, once you've shown your prospective clients how your service can solve their pain points and have given them a price, be prepared for the "Yes." Know the exact next steps that need to happen so you can get to work and get paid. Have a standardized agreement saved that you can access within minutes, a payment system to invoice your client immediately after services are rendered and a follow-up mechanism to capture feedback and testimonials to improve your business even more!
Have you ever been afraid to raise your prices? Now's the day to change that. Share your experiences in the comments below!