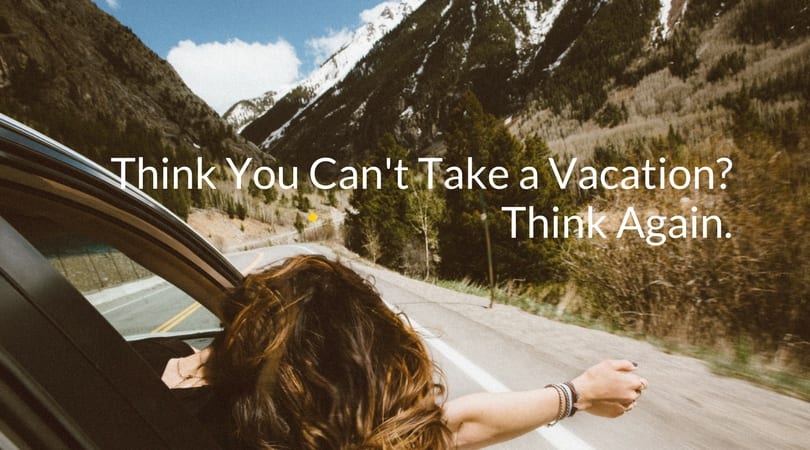 Does the winter weather have you dreaming about warm, sandy beaches? Or do you long to hit the open road for a month-long summer adventure while the kids are out of school? You might think that all sounds great, but just isn't doable — that your business can't survive without you there.
You aren't alone in that feeling.
According to a 2014 study from OnDeck, only 57 percent of small business owners planned to take a vacation that year, and 90 percent planned to take two weeks or less off — less than the average employee!
Likely one of the big reasons you started your own business was to take control of your schedule and find freedom — and to actually take those dream vacations. Ah, the irony!
Well, you've come to the right place. We are here to tell you that it IS possible! You can run a successful business and also take time for those memorable vacations that recharge and inspire you.
Here are 3 keys to implement in your business that will allow you to take a stress-free vacation.
1. Hire right. Train well.
It can get frustrating to hunt for the "right" employee, but hiring the wrong one can cost you time, money and your sanity. Take time to identify the characteristics and skills of the ideal fit, and don't hire someone who isn't the best fit because you're getting impatient. If you make the right hire the first time around, it will pay off big-time.
Not finding the ideal candidate? You may need to rewrite the job posting to accurately reflect your needs, as well as your organization's culture. Also consider where the ideal candidate for that position looks for jobs. You may need to change up how and where you search for candidates to find the right one.
Once you find the right person, the second half of the equation for success is training. Have systems in place to seamlessly onboard new hires, and get them up to speed and comfortable with their responsibilities as quickly as possible. Make sure training covers the organization as a whole, as well as the employee's specific piece of the puzzle.
2. Document everything (seriously, everything).


If you want to step onto a plane, train or automobile, the people who are left to run the day-to-day operations in your absence need to know exactly what to do to keep the business functioning as smoothly as it would if you were there. The more you can spell out for them, the better. This way, just about anything can come up and your employees will know how to handle it without panicking or interrupting your beach time. You will also feel more relaxed if you know that they have the tools to tackle anything that comes their way, in the way that you approve of.
But don't wait until the week before your vacation to start creating your operations manual. Start to document the processes of how your business does everything it does, day in and day out. This includes how to onboard new clients, deliver your service, resolve issues/complaints — the list goes on and on.
3. Drive focus.


When every member of your team is clear on the organization's goals and the strategy in place to achieve them, it's much easier for everyone to row in the same direction and at the same speed.It's imperative to drive time and resources to activities that support reaching these goals, and to de-prioritize anything that does not. Getting into this practice while you're around helps set team members up for success when you're not. When the whole team is clear on where they're headed, they can be confident in their actions and decision-making while you're gone. Then when you set sail, hit the road or leave on a jet plane, your team needn't break their stride.
Letting go can be hard. But if you hire and train the best people, create strong, documented processes, and regularly communicate your goals and strategy, you can feel at ease, and find fun and relaxation wherever your travels take you!
Are you a business owner who doesn't take the vacations you want to take? Tell us what holds you back in the comments below.