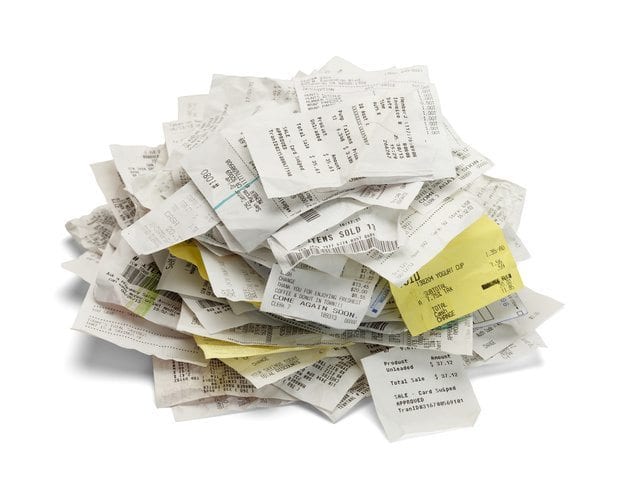 Everyone accumulates receipts throughout the year. Whether paper or electronic, personal or business, the receipts pile up (sometimes quite literally)! Organizing receipts throughout the year can help you avoid a frantic search for the information you need to file your tax return. Knowing what to have at your fingertips and how to store it can help to reduce filing difficulties and possibly your tax bill.
#1 KNOW WHAT TO KEEP
Knowing which receipts to save will help you maximize your tax refund while minimizing the amount of paperwork you have to save for tax time each year. TurboTax offers a great list of which personal and self-employment expenses are tax-deductible. Keep every receipt related to these expenses. Get rid of receipts not related to these expenses once you reconcile your monthly bank or credit card statement.
#2 MAKE A NOTE 
Whenever you incur a valid expense, write the nature of the expense on the receipt right away. As time passes, it becomes more and more difficult to remember exactly what a purchase was for. For example, before leaving the restaurant after a business meal, write 'Business' on the top of the receipt as well as who the meal was with and what was discussed. Do it right away while it's fresh in your mind.
#3 FILE IN ONE PLACE
The trick to filing receipts, and anything else for that matter, is to implement a system that is simple and works for you. For example, if you spend a lot of time in the car, keep an envelope or small box in the car for business receipts collected while on the go (food, tolls, etc.). Keep another box, accordion file, binder or dedicated drawer at home or at the office. And don't forget to keep a file on your computer for digital receipts from online spending. Commit to using the system for each and every receipt.
If filing and storage boxes don't get you jazzed, you're not alone. Put your unique style/character into the system to make it more exciting for you to use. Buy a box, accordion file or binder you love to look at or make your own by wrapping a shoebox in wrapping paper or a collage of photos.
Once a month, on the same day you pay bills, empty the receipt containers, collect all the contents in one place and enter all categorized tax-deductible expenses into a spreadsheet or your accounting software. Processing monthly reduces stress at tax time. Then put the receipts back into one spot in your home or office so that they're ready to go when tax time rolls around.
Once you start to organize receipts in one place for tax time, you'll see how quickly all the little expenses can add up. And come tax time, preparation will be a breeze.