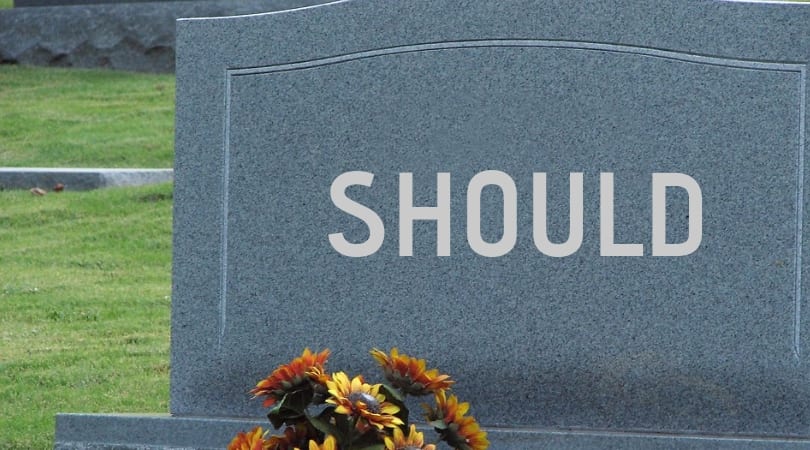 I recently returned from a business planning retreat, where my mastermind group escaped to the mountains for two full days of visioning, strategy, idea sharing and prioritizing activities for the year ahead. During the course of the retreat, I met one-on-one with each member of the group for a coaching session, and in every single session, the word "should" came up. "I should be doing more on social media." "People tell me I should raise my prices." "I should develop an online program." And on and on and on.
Every day, you receive messages of what you "should" be doing. Whether from an article you read, a guru you follow, the wisdom (solicited or not) from business contacts, family members, and goons. The messages are seemingly never ending.
"Should" overwhelms us.

"Should" keeps us stuck.

"Should" brings us guilt.
No good comes from these messages. Inspired by Yoda in The Empire Strikes Back, "Do. Or do not. There is no should." I suggest erasing this word from your vocabulary immediately. Here's how:
Be Selective
It's great to get advice and perspective from others who have been there, done that; or from people who are there, doing that. But that advise needs to be put through a filtering mechanism to decide if you will take the advice now, take the advice later, or not take the advice at all. There is no benefit from internalizing this advice as a "should." Process it and assign it one of these three categories.
Park It
Don't for a second let advice take up space in your head.
If the advice you get is advice you decide to take now, capture it in your project management system, your calendar, or whatever system you have to manage your priorities and your time. Then don't think about it for another second until it's time to focus all of your attention on it. When it is, focus on it, and do it well.
If the advice you get is advice you decide to take later, capture it on a master project list where it can live safely and securely until it's appropriate to decide to pursue it or cross it off the list. Creating a parking lot for "future ideas" keeps them from taking up brain space (and energy).
Gauge Success
Don't continue taking the advice (or doing anything in business for that matter) without carefully evaluating success to determine if it's worth the time, energy, money, etc. to continue doing it over and over again. Sometimes advice becomes so engrained and habitual (send a monthly e-newsletter, cold call 10 prospects/day, etc.), you may fall into the routine of doing it, without pausing to evaluate if it's bringing you the results you expect and need. Pause, evaluate, and then decide to continue or not.
And for goodness sake, stop "should-ing" yourself. DEATH TO THE "SHOULD."