You can't do it all. And this becomes especially true as your company grows to serve more customers. With growth come more relationships and projects to manage, as well as more expansive and complex administrative functions. You need help to build a sustainable business, and we live in a time when there are more options for help available than ever before.
With benefits to your business like less paperwork, lower overhead for office space and skipping the benefits package, independent contractors can be a great option for businesses that don't need full-time, dedicated on-site support for a specific function, project or initiative.
The notion that outsourcing is only done to leverage lower wages overseas has gone by the wayside, and in has stepped the boom of independent professionals who provide services under the contractor model stateside. Forbes estimates that half of the American workforce alone will be freelancing by 2027.
Maybe you already outsource your bookkeeping or your social media. The contractors you use are an essential piece of your operations, allowing you to let go while still building your business. Maybe you haven't used contractors yet and are considering when is the right time and how to bring them on board successfully.
The vital question is how to find, train and retain the right contractors.
Let's dive in.
Finding The Right Contractors
The contractor world is growing, and finding the right contractor starts with a few keystrokes. If you're looking for an independent contractor in your geographical area, it's quick and easy to start the search on Google. If you're looking for an independent professional within a wider radius, websites like Upwork.com and Freelancer.com offer thousands of professionals to choose from. There are dedicated websites for freelancers providing specific services, too, like Textbroker.com for copy writing.
I already mentioned some of the benefits to contracting specific tasks out. Another added bonus is that contractors often have deep experience in a specific skill set (say web development or recruiting). Look for the specific experience a contractor brings to the table—the companies he or she has worked with, his or her portfolio of work, etc.
A metaphor might be helpful here. Let's look at cloud technology. The idea of running programs on shared servers has existed for 50 years, but until recently it required each business to buy all the related equipment to store in-house. You know—the computers that filled rooms, plus multiple servers to boot. Today, cloud services are offered over the web, meaning the servers and other hardware are stored in one place that now serve thousands of businesses at a time. And none of those businesses have to buy the equipment or devote resources to the IT required to run it.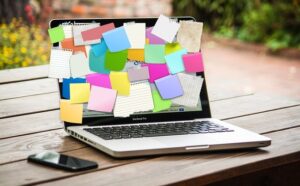 Hiring contractors to get specific tasks off your plate works the same way. If you find the contractor with the experience and the client book that demonstrates they've worked with businesses like yours before, that means less training you have to do and fewer resources you have to devote. We'll get into proper training below (because there will be some), but working with a professional who's doing the kind of work you need in bulk points to a more efficient economy for all of us.
If you've dabbled around on freelancer sites but aren't ready to reach out on those platforms yet, you can also look for contractors by:
Getting referrals from other businesses, in and out of your market
Checking out trade or professional associations
Searching Facebook or LinkedIn for groups devoted to the work you need
Expert tip: to find the right contractor, you also have to know what you need in very specific terms. Start the search after you have your scope of work tightly defined.
Training Your Contractors
Because of the expertise independent professionals can bring, training your contractors or freelancers can be easier than training full-time hires in your office. Just be sure to keep in mind that training contractors will be a little different.
For one, you expect contractors to come in with specific knowledge, so your focus in training can ultimately be around the operations the contractor will be a part of and what you expect the contractor to deliver.
Training a contractor should naturally take on a sense of your bigger business culture, too. In fact, independent contractors who come on for single projects frequently end up feeling more invested in the hiring company than the project at hand. Start by communicating your standards to new contractors and encourage them to keep those same standards. By taking training beyond tasks to this bigger cultural training, you'll be better positioned to see your outsourcing ultimately reduce your operational costs.
On top of explaining your business, your expectations, your needs and goals (and giving your contractors the operational materials they'll need to learn and perform their jobs), training will also come in the form of your active feedback. Give feedback with specific examples as deliverables start to come in, and the right contractor will be quick to learn.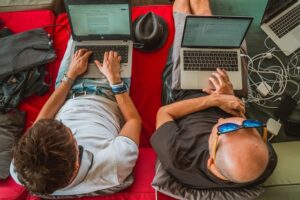 And do take note that there are some rules around training contractors that any business owner looking to independent professionals should be familiar with. Consulting with your attorney is a good place to start, especially to understand the legalities around a W2 versus a 1099.
Retaining Your Contractors
Retaining your contractors starts with a clear service contract that outlines all the details about the relationship they'll have with your business. What is the term of the agreement? How can it be terminated? What are the specific services you're contracting, and for what compensation? How will intellectual property be protected and who owns it? Do you need a non-disclosure?
Expert tip: email me if you have questions about what else should go into a service agreement for a contractor. If you do select someone through a freelancing website, this may remove the need to craft an agreement yourself, as these sites have standard agreements that both parties sign.
When it comes to keeping your contractors happy, good communication is the name of the game. If you do work with contractors over the web, consider videoconferences whenever you can. It's important to build a strong relationship, and there's no better way to do that than seeing one another eye-to-eye.
Expert tip: remember that you aren't allowed to control how an independent contractor does his or her work. You can, however, communicate proactively with your contractors regarding timelines and milestones to gain commitment on when they will have specific projects done. Deadlines must always be a part of your negotiations, and it helps if you make yourself available as quickly as you can to answer follow-up questions when a contractor has them.
Managing your contractors does take some work. It won't be as easy as shipping a task off at the click of a button. Managing contractors is, however, almost always less time-consuming than managing employees.
Outsourcing can add steam to your organization's engine with lower operational costs if you find, train and retain the right contractors. Do you already use an independent contractor for your administrative tasks? How about your marketing strategy? If you'd like to contract more tasks out, leave me a comment here or get in touch—I might even have a referral for exactly what you need.