You own a business. Yes, you're the keystone of operations. Yes, it's critical to the success of your business that you take due responsibility. But if big bank CEOs can still go on vacation and switch their phones to "off," why can't you? Sure, they have enormous teams to take care of everything while they're gone, however there's a simpler reason why they're able to disconnect: they have the processes in place to keep the engine running without them.
Let's say you're still many, many written processes away from feeling that kind of independence. That can be remedied (especially with the new online, self-paced course I'm offering that dives into all-things-process). And…the idea of disconnecting is something crucial you need to understand here and now.
Stop trying to maximize every second of the day with productive to-dos, savagely crossing tasks off your list. If you don't prioritize downtime to disconnect, you'll be sitting on the edge of overwhelm and burnout. I am speaking from experience here.
There are at least a few hours every day that must be "sacred," those hours where no one should bother you and where you have NO obligation to view an email or take a phone call. And I'll go further—it's essential to your health and to the growth of your business that you make it your highest priority to find even longer windows to disconnect.
Let Me Tell You Where I'm Coming From…
I'll be frank; this has been on my mind a lot lately thanks to a recent trip I took. It's not that long ago that I came back from one and a half weeks overseas. I had a lot of things on my mind while I traveled—places to see, agendas to keep—and above all else, I had one primary focus: to be present.
I had this idea that "being present" would leave me open to whatever experiences happened upon my path. And in order to be more present, I had to disconnect.
It started on a bus where I simply disconnected from the WiFi. As I traveled between cities, I looked out the window or talked to the other travelers instead. I took time and (equally important) made a deliberate effort to immerse myself in the people, culture, history and stories that were quickly building what became a life-changing experience.
By giving myself space, disconnecting from the notifications and the rest, I found perspective.
Please answer honestly—when did you last break away? Do you actively cultivate a space for yourself?
No?
Here's how.
Step 1: Accept Your "Productive Downfall"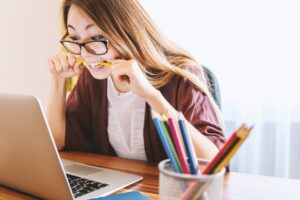 I'm included in this and so feel empowered to say it: business owners face many challenges, and one that continually rises to the top of the list is the need to always be productive. It can feel at times like business success rests squarely on your shoulders, and so there's always more you could do—projects to finish, deals to close and services to launch out of the park.
Even downtime is filled with "to-dos." Everything from doing the laundry to cleaning the house or taking care of the errands you haven't had time to do. It's a compulsion for most of us. We get that same rush after our "free time" that we do in the office, thinking with satisfaction of the list of things we just accomplished.
What you have to remember is that any amount of time devoted to relaxation—real relaxation, not running errands—is a profitable investment. It will make you a better businessperson and it will render you more equipped to do your job. Giving yourself room to introspect will directly impact your business in the most positive ways. Down time opens up space for creativity and to see things in a different way.
If you really want to be "at your best" for your business to grow, a healthy frame of mind is where that starts. Your best ideas come when you're relaxed and recharged, not stressed. And what do businesses thrive on today, if not great ideas?
It's critical that you accept the idea of disconnecting, relaxing, living in the moment…and that you build this time in without ever thinking twice about it. Whatever you want to call it, however you want to see it, you need to appreciate its value. Not coming naturally to you? Keep reading about the importance of time off to learn more.
Step 2: Draw A Line In The Sand
If you're serious about disconnecting, you need to commit to it just like you do everything else on your agenda. And then, you need to draw a line in the sand to start classifying activities that promote relaxation and living in the moment versus those that don't.
I'll be the first to add something to column "B" for you—it does not count to be "in the moment" or disconnected from the noise of work and life if you're on your phone, not even blowing time on social media. That's why I shut the WiFi off on the bus that day. Our brains need a break from constant engagement, and the risk of notifications coming in and taking you a step away from dedicated time for introspection will be counterproductive to everything you're trying to gain by it.
What You Need To Know About Your Phone
Even better than disconnecting from WiFi is shutting your phone or tablet off altogether. The buzzing or dinging, those endless vies for your attention, will steer you away from personal growth. Apple proudly announced in 2013 that more than 7.4 trillion push notifications had been sent through its servers. They haven't spoken to that number since, but how much do you want to bet that number has doubled? Tripled?
By turning your phone off altogether, you'll quickly discover that you don't miss the stream of push notifications filling your lock screen. You'll no longer allow just any app to interrupt your time for reflection.
Apple wants you to look at your iPhone, Gmail wants you to open your inbox, Facebook wants you to open Messenger and dozens of other apps and advertisers are competing every second for your attention. This will not change without your intervention, so make the call now to turn your notifications, WiFi or phone off. Leave it behind.
Step 3: Use Reflection Time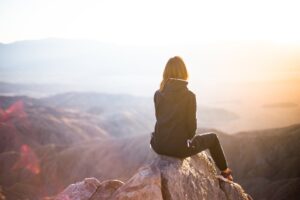 What do you do with this down time? The short answer is: nothing productive. What I mean by that is to strike the idea of "maximizing" your time with things that "have to get done." You can use your reflection time to walk somewhere, go to lunch, read a book or talk to your neighbor. The point is that it should leave you open to the moment and all the experiences, ideas and feelings that come organically with it.
Not sure which activities or experiences fall on the right side of that line in the sand? Look at this article by American Express to see which of these ideas resonate with you. Personally, I connect with quiet and creativity by getting out into nature, by doing yoga and by cooking.
It's amazing what's possible when you step out of the daily grind. Heck, it's amazing what's possible when you simply look up from your phone.
Block off time to disconnect starting today. Then increase that time little by little. And then, plan bigger windows of time (like a vacation) to support your "in the moment" experiences. What you find might surprise you in the best way.
Think slowing down is a luxury you don't have? Think again.
"Breathe. Let go. And remind yourself that this very moment is the only one you know you have for sure." – Oprah Winfrey