The idea of automating just about any task is an attractive one. You can save time, sometimes hours a day, for you and multiple members of your team.
But then, in the face of changing a routine, finding an automation tool and setting up a new system, you have to ask: is it worth it?
Knowing whether a task is worth automating first requires taking a look at the total time, energy and trouble going into completing it the way it's done today. From there, you can explore what tools are available to address concerns.
I'm going to break down these three major factors so you can apply them to whatever tasks you're thinking about automating. Any one of these alone can make it clear that it's time to automate a process. If you aren't compelled by one factor, look at the sum of all three. And if you still aren't sure, apply the questions I've listed at the bottom of this article to fully assess your path forward.
Factor One: Total Time
This factor is easy to assess since is quantifiable. For any task you do on a regular basis, there's usually an opportunity to automate all or part of it, especially since these tasks are almost always repetitive.
For anyone who owns a business, the more tasks you have that require daily or weekly attention, the harder it is to take that vacation you deserve or step back from the daily grind.
My two cents is that any task you're doing daily can probably be automated to cut the time it takes in half, or eliminate the need for a daily recurrence all together. I'd say the same for many weekly tasks, too.
Here's a table you can use when assessing how much time you're really spending on a regular task. Look at the time you could save after migrating that task to an automated solution. Not every task will have an obvious automation solution, and many will depend on other factors like what software is easily available. At the very least this can start to put daily and weekly tasks into perspective of the total time invested.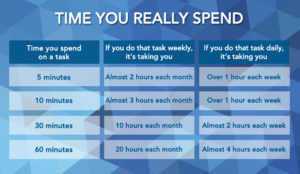 Start by jotting down how much time you spend doing regular and repetitive tasks. Especially those that are stressful when you're out of the office. Better yet, keep a time log for all of your regular tasks to identify room for automation. You might not even realize how many times you've performed a single task until you look back over the course of the month.
Expert tip: This concept is so important that it's discussed in greater depth in the first module of our new online course, DuplicateU: Lay The Foundation. To get additional guidance on this step and what it can mean to you and your business, learn more about DuplicateU here.
Factor Two: Energy
This is where we get into the more open-ended assessments. The energy you spend doing a regular or repetitive task should be a major consideration when looking at automations—after all, you have a lot of responsibilities requiring energy throughout the day. And energy is a finite resource that must be managed with intentionality. If any recurring task is taking energy away from important business functions like strategy and planning, marketing and sales, or financial oversight, it might be worth looking at another solution.
A task can take little time and still be exhaustive mentally/emotionally. Take financial management tasks, for example. One question I answered recently is whether it's time to upgrade from a bookkeeper to a CFO. If it's not time to take that step yet, and you're trying to do away with a few regular data entry tasks, a simple spreadsheet automation might save you energy spent entering sensitive information and validating data fields.
If you're not sure how much energy a task really requires, ask yourself how you feel after the task is done. Are you able to jump right into something else, or do you need time to "recover" before tackling the next thing? If your answer is the former, it's likely that task gives you energy. If your answer is the latter, it's likely that task depletes your energy, and reducing the amount of mental/emotional energy it takes should be a priority.
Factor Three: Trouble (Frustration)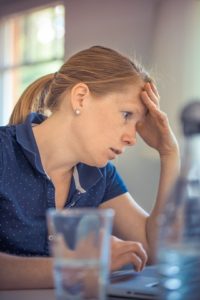 The frustration factor comes down to a little self-awareness. Do you complete certain tasks grudgingly? Are there recurring responsibilities that you put off and put off and put off until absolutely the last minute? Do you have to push yourself to get them done with several pep talks? If a regular task is causing you grief or if it feels like you're "going to the trouble" to get it done every time, that's a big flag to consider properly delegating or looking to an automation.
If you feel resentful toward a task, or even hateful of sitting down to do it, it's probably time to get that task off your plate.
Expert tip: Remember that toxic tasks can weigh down your employees, too. While delegating can serve as a short-term solution, an automation is often the better way to go for repetitive tasks with a high frustration curve.
A final pointer regarding these three factors:
While any one of these factors can illustrate what tasks can be automated, sometimes it's the sum of all three that point you in the right direction. Imagine an equation: Total Time plus Energy plus Trouble. Label each factor as "high," "medium" or "low," and you will feel that much more empowered to invest a little time upfront to move to an automation that will save you time and boost morale in the end.
Questions to Ask if You're Still not Sure
Automating tasks sounds great. But doing so often require time you feel you don't have just to get a new system up and running!
If you're thinking about a specific task and still aren't sure, or need a few more reasons to justify the time or budget invested in making the switch, ask yourself the following questions:
If you delegated this task instead of automating it, would it be a headache for the person taking it on?
Is the task prone to human error? (Great examples would be bookkeeping and setting appointments.)
Could automating the task improve the quality of work?
Do you know others who have implemented this kind of solution before?
(Expert tip: Making time for a single conversation with a peer or consultant can save you hours of googling, deciphering software features and price-comparing.)
If you answer "yes" to any of the above, that's a strong indicator that automation could save you time, money and strife.
Looking Toward the Future
Instead of living with frustration or feeling the burnout bubble up, make a move now to automate recurring tasks in a way that is intentional and well planned. These moves will pay off not only in time and energy savings, but also in opening up opportunities to scale your operations. The sooner you have automations in place, the more seamless your ramp to growing your business will be.
Automations often require new software and subscriptions, so weigh these expenses with the benefits these solutions bring and move decisively. If there's one epiphany that business owners come to time and time again, it's that we can't do it all.
Start a time log today to look for tasks begging for automation, or drop a comment here if you already have one on your mind. I'll reply directly with tips and will be available to point you in the direction of solutions that can help you survive today and scale tomorrow, like the new self-paced online course DuplicateU that will start by working through this exercise. Learn about new automations today to set your business up for a self-sustaining future with lower stress and bigger returns.