You've probably heard the phrase "dig your well before you're thirsty." In finding and hiring the right talent for your business, this means building a bench of rock star candidates to reach out to with offers as positions in your organization become available.
If only it were that easy.
You know you need the right team to grow your business, but finding candidates with the right set of skills, behavioral traits and ambitions interested in joining your team can be a real challenge. I've been hearing this again and again from Kleriti clients in recent weeks.
The unemployment rate as reported by the U.S. Bureau of Labor Statistics in May was 3.6%, well below the normal rate. This means many of today's would-be candidates are asking for salaries that immediately disqualify them from the running.
Your hiring process can be simpler and at the same time more effective. There is a path of less resistance to find the talent you need when you need it—and at the price you can afford. I'm going to break down the key factors at play to put this all into perspective—because, with these factors worked to your advantage, finding and hiring the right people for your business doesn't have to be hard.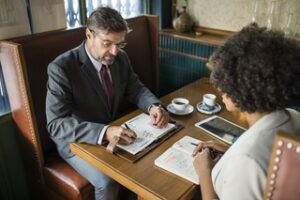 Building a hiring process that is effective and repeatable comes down to assessing:
Where is hiring on your priority list?
How do you write your job descriptions?
What is your process for reviewing, interviewing and evaluating candidates?
And how realistic are you at the onset?
Where Is Hiring On Your Priority List?
To attract the right talent, recruiting has to be a priority. More specifically, this means devoting time to:
Promoting openings
Searching for candidates
And reviewing applicants
For starters, any time you're in public you have the chance to act as a spokesperson for your business and your team. Give your brand a voice and speak to its mission. You never know if your neighbor, or the café barista or the guy in your running group is looking for a new opportunity. Or maybe they know someone who is. If you start your search for talent by networking and promoting openings in day-to-day interactions, you'll end up planting seeds that could later yield harvest.
Next, to get more proactive, searching for and researching talent is a must. A natural place to start is on LinkedIn, and you can also look for groups on Facebook that are devoted to the industry or type of work you're scouting for. Depending on the talent you need, some of these groups might be specific to trade groups or associations where those professionals convene.
These activities take time, and it might feel like devoting energy to one more thing will push you over the edge. Just keep reading through the following steps and you'll see how this process can become repeatable and easier over time.
How Do You Write The Best Job Description?
Writing the best job description requires clearly outlining the job's requirements—and a little intrigue on top of that can create an even more effective post. Start by outlining the essential duties, behavioral competencies, education and experience needed for the position. The more time you devote to getting specific here, the more likely you are to bring in the right person.
Expert tip: If you're unsure where to start with responsibilities or competencies, look at your current staff. How are you using the talent you have today? A quick assessment can act as a springboard to be clearer about what you need out of a new hire. For example, if you wish your current staff had stronger project management skills, highlight that competency in your job description. How you're using your current talent—and where they need help—can give you direction on what to look for in the next role you fill.
If you're writing a job description for an entirely new position and you're struggling with where to start, another option is to read descriptions on job boards for like roles in your area. What do you see in other job descriptions that you want to look for in your new hire?
With responsibilities and competencies clearly defined, the icing on the cake is the "intrigue" element of your job description. If your business is growing, mention that in the post. Give a brief summary of what your business does and how this role fits into the bigger picture. And if you're looking for talent with a specific energy (like a "go getter" attitude, or someone with a sense of curiosity, or someone who's flexible), use that language to make your post more human and relatable. Remember that you're selling your organization along with the role and use language that really attracts the right candidates. 
The best job descriptions come with a little reflection of your current talent, a little research on the competition and clear and relatable language. Keep reading to see how far this takes you into an optimized hiring process.
What Does Your Hiring Process Need?
Your hiring process needs to be practical and repeatable. And yes, you do need a process. By building a step-by-step system, you'll make life easier the next time you have to hire—and you'll also ensure that you compare candidates apples-to-apples. You can tweak your hiring process as needed, but here's my recommendation to get started:
Get creative in the search
Step one is the first concept you read about. By investing time up-front on LinkedIn and Facebook, and in promoting opportunities within your network, you'll end up with a bigger pool of talent to consider. Posting and ad on a job board and waiting for the right candidate to appear doesn't always cut it. If you proactively reach out to professionals whose experience, skills and energy align with what you need, you'll save yourself time in every other step of your hiring process.
Be resourceful in promoting your job descriptions
Let's say you've written a clear and intriguing job description just like I outlined above. Posting it to a job board is a natural place to start. Some options are ZipRecruiter, Glassdoor and Google for Jobs. And sharing it on your own LinkedIn profile, on Facebook and within relevant social media groups and trade organizations will help you make an even bigger splash.
Decide how you'll compare resumes
Here, not only do you decide what criteria you'll favor when reviewing candidates, you can also list your priorities in order of importance to help compare candidates in a consistent and weighted fashion. In fact, when you craft your job description, one easy hack is to list the responsibilities, competencies and required experience in their order of importance in their respective lists. Then you can use the job description itself to rank candidates against those key requirements.
One caution here is to remember that a resume is simply one piece of a more complex puzzle. It's likely the first exposure you have to a candidate, but a sheet of paper and a human being are very different. So use the resume as a starting point for evaluation and comparison, but by no means the entire picture.
Standardize your interviews
Interviewing consistently—using the same questions and making sure those questions are written to get at the heart of the role's responsibilities—is essential to make your hiring process consistent and repeatable. Keep your open-ended interview questions organized and clear, and take notes when you sit down with each candidate. These notes will allow you to complete an objective evaluation when comparing candidates and choosing the right talent for your business.
Consider the right assessments
Most of us have had the experience of interviewing a candidate we thought would be just perfect for our organization, and months later finding out that they misrepresented their skills or competencies. I always recommend adding assessments into your hiring process to combat this. What combination of tactical skills assessments (typing speed, Excel proficiency, etc.) and communication/cultural/job fit assessments can you work into your process? Again, these become repeatable every time, and help break through the tendency to hire people we like in favor of people that will do the work we need well and add value to our organizations.
After finding and hiring the right talent, read my article about training new hires to your standards to set new employees up for success right away.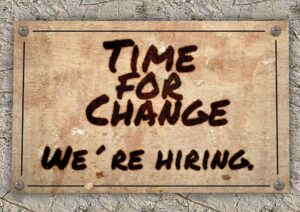 Your Market: How Realistic Are You In Hiring?
Even the best hiring process won't pay off if your expectations aren't realistic. When looking at your market, one of the big business decisions to make in hiring is what you'll be able to pay. Don't stretch your budget or lower your expectations so far that you feel like you're "settling," because that never works out. (Mr. Good Enough is out of fashion in dating, so why should your business ever settle?)
Looking at my home state of Colorado and all the Kleriti clients here, the balance of budgets against the job market has been especially tough. I've had clients say that it feels like candidates come in asking for a million dollars.
Naturally, with unemployment rates falling lower and lower, top talent will have the luxury of being pickier about their next job. This is where the intrigue written into your job description comes into play by adding excitement and relatability to the opportunity you have to offer.
And while large corporations may be able to offer bigger salaries and more robust benefits packages, small businesses can offer incredible benefits to employees that often go undersold. In small business, employees may get:
Greater exposure to multiple roles, allowing them to grow and develop their interests and skills more quickly and robustly
More ability to see the impact of their work by directly serving a population they care about
Increased opportunities to impact the organization with recommendations and insights that can have an immediate effect on the organization's direction
Greater flexibility
Do not underestimate these benefits, and remember that at every step of the hiring process you're selling your organization and the role to the candidate as much as they're selling themself to you.
If you're looking for new talent now, it's not too late to do a little extra research, revamp your job description and see what's hot in your local job market. By taking a look at the most popular positions posted by large employers in your area, and how the associated job descriptions are written, you'll be able to gain insight into what's attracting local talent. Use this data to inform your decision regarding salary and benefits, but again, stick to what's right for you and where your organization is at in its growth.
If you're still feeling down about finding talent for your organization, drop me a comment here or send me an email to get the conversation started. Your organization certainly has great opportunities to offer the right team members, so there's no reason not to start with that call today.